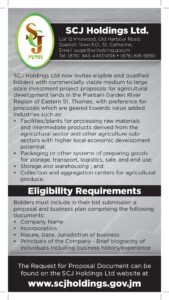 SCJ Holdings Limited (hereinafter called "SCJH") guided by the Government of Jamaica
Policy Framework and Procedures Manual (2015) on land divestment requests the
submission of PROPOSALS in the form of a Business Plan for the Lease of Farmlands,
part of Plantain Garden River and Winchester in the parish of St. Thomas for Agricultural
Cultivation and Agro Processing. There are four (4) lots on offer but any successful
applicant will only be awarded one (1) lot.
Interested persons MUST download a valid application form and support documents from
the SCJH website during the prescribed period of advertisement.
SCJH will open the bids/applications on Wednesday, March 31, 2021 at 12:15 pm in the Conference Room, SCJH, Lot 21, Innswood, Old Harbour Road, St. Catherine. All applicants or their representatives are invited to attend.
Applications shall be submitted via a completed Application Form and returned to the SCJH no later than 12:00 noon on Wednesday March 31, 2021 and MUST be
deposited in the Agency's tender box.